Founders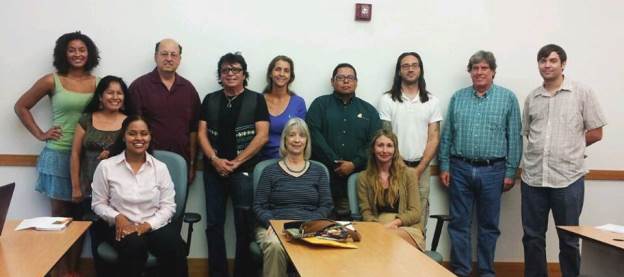 On April 19th, 2013, students, tribal members and faculty members gathered to start a conversation about the need of having Indigenous voices at Florida International University. They became the founders of the student led organization Global Indigenous Group (GIG), and the force behind the Global Indigenous Forum (GIF).
First Row:
Dennika Mays, (Anishinabe) Graduate Student, African and African Diaspora Studies;
Rubi Hurtado, (Xauxa-Quechua) Undergraduate Student, Anthropology/Sociology;
Dennis Wiedman, Associate Professor, Global and Sociocultural Studies;
Lee Tiger, (Miccosukee) Miccosukee Tribe of Florida;
Juliet Erazo, Assistant Professor, Global and Sociocultural Studies;
Van Samuels, (Choctaw) Seminole Tribe of Florida;
Alexander Pearl, (Chickasaw) Assistant Professor, FIU School of Law;
Jim Riach, Senior Lecturer, Earth and Environmental Sciences;
Jason Larey, Undergraduate Student, Environmental Studies.
Second Row:
Elena Cruz, FIU Office of Pre-Collegiate Programs, and Graduate Student in Global and Sociocultural Studies;
Mary Lou Pfeiffer, Senior Lecturer, Honors College;
Janna Lafferty, Graduate Student, Global and Sociocultural Studies.