Students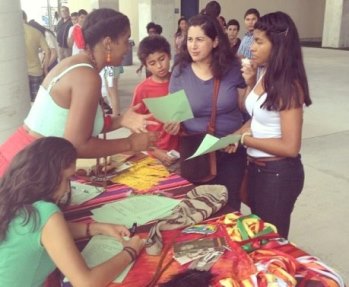 All FIU students are welcome to join the "Global Indigenous Group" GIG, a student-led organization of Indigenous and non-Indigenous peoples who seek to celebrate and share global Indigenous heritages, sovereignties, memories, and knowledges. GIG is an integral part of the FIU Global Indigenous Forum.
GIG is a place for Indigenous students to feel welcome on the FIU campus, to express their identities and to gain leadership experience. GIG sponsors numerous cultural performances, museum exhibits, guest speakers. We also work to raise awareness of issues that Indigenous peoples face around the world and we advocate for the social and communal development of Indigenous communities. Our group also works to support and network with Indigenous students, professors, and professionals. GIG honors the various traditions of our diverse ancestors and their relationships to each other, our Mother Earth, and the Cosmos-Spirit World.
Friend GIG on Facebook at: https://www.facebook.com/GIGFIU
We welcome new members. Please join!
In order to be recognized as a member you must register with Orgsync.com, the on-line management system of the FIU Council of Student Organizations (CSO). For GIG to remain a recognized club of CSO each member must sign into orgsync occasionally to read the news and events, and to record their attendance at GIG and CSO events. You will need to establish a general profile with orsync, then select GIG to become a member.
For those who already have an orgsync profile, the system moves you directly to sign up in an organization.
Go to https://orgsync.com/join/71498/global-indigenous-group
Step 1 for students new to Orgsync.
On top bar select "Sign up."
In "Choose Your Community" select "Florida International University" from drop down window.
Post your contact information and create a password.
Provide "Basic Profile" information.
Then FIU Profile.
Once this is completed, go back to Home page on www.orgsync.com
Step 2: Select GIG to become a member.
On top bar – select "Browse Organizations."
Select "G" from locator bar.
Select "Global Indigenous Group."
In upper right – select green box "Join Now."