Carol Damien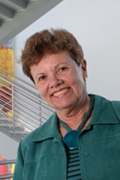 Degrees
Ph.D. Latin American History. University of Miami.
Contact
Department of Art and Art History
Room: VH 216
Phone: 305 348-3366
Email: damianc@fiu.edu
Department web page: http://carta.fiu.edu/arts/faculty/faculty-directory/damian1/
Biography
Dr. Carol Damian is Professor of Art History in the School of Art and Art History and the former Director and Chief Curator of the Patricia and Phillip Frost Art Museum at Florida International University. She is a graduate of Wheaton College in Norton, Mass., and received her MA in Pre-Columbian Art and her Ph.D. in Latin American History from the University of Miami. A specialist in Latin American and Caribbean Art, she teaches classes in Pre-Columbian, Colonial, Spanish and Contemporary Latin American Art, Modern Art surveys and Women in Art. She is the author of The Virgin of the Andes: Art and Ritual in colonial Cuzco (Grassfield Press, 1995). and is the Miami correspondent for Art Nexus and Arte al Dias. She lectures frequently on Latin American and Caribbean art and has curated numerous exhibitions.
Publications
1995 The Virgin of the Andes: Art and Ritual in colonial Cuzco. Miami Beach: Grassfield Press.