Global Indigenous Colloquia
Event information

| | |
| --- | --- |
| Start: | |
| End: | |
| Venue: | FIU Modesto A. Maidique Campus, GC 305 |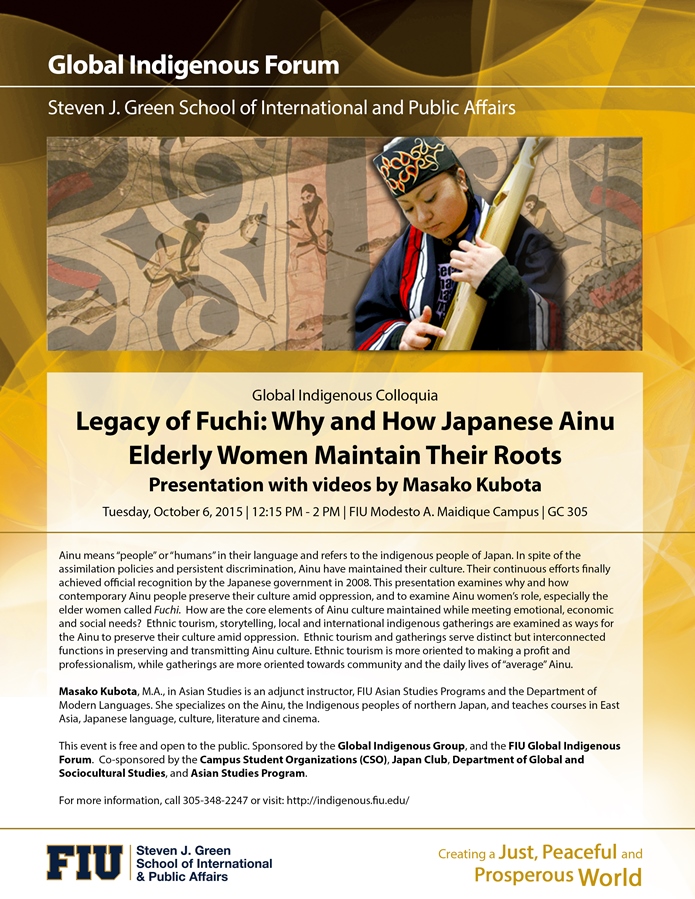 Global Indigenous Colloquium
Legacy of Fuchi: Why and How Japanese Ainu Elderly Women Maintain their Roots
Presentation with videos by Masako Kubota, MA
Adjunct Instructor. Asian Studies Program & Department of Modern Languages GC 305, October 6, 12:15 to 2:00 PM
Ainu means "people" or "humans" in their language and refers to the indigenous people of Japan. In spite of the assimilation policies and persistent discrimination, Ainu have maintained their culture. Their continuous efforts finally achieved official recognition by the Japanese government in 2008. This presentation examines why and how contemporary Ainu people preserve their culture amid oppression, and to examine Ainu women's role, especially the elder women called Fuchi. How are the core elements of Ainu culture maintained while meeting emotional, economic and social needs? Ethnic tourism, storytelling, local and international indigenous gatherings are examined as ways for the Ainu to preserve their culture amid oppression. Ethnic tourism and gatherings serve distinct but interconnected functions in preserving and transmitting Ainu culture. Ethnic tourism is more oriented to making a profit and professionalism, while gatherings are more oriented towards community and the daily lives of "average" Ainu.
Masako Kubota, M.A., in Asian Studies is an adjunct instructor, FIU Asian Studies Programs and the Department of Modern Languages. She specializes on the Ainu, the Indigenous peoples of northern Japan, and teaches courses in Japanese language, culture, literature, and cinema.
Open to Everyone. Sponsored by the Global Indigenous Group, and the FIU Global Indigenous Forum. Co-sponsored by the Campus Student Organizations (CSO.), Japan Club, Department of Global and Sociocultural Studies, and the Asian Studies Program.
Check the Global Indigenous Forum web page often at: http://indigenous.fiu.edu/ Follow us on facebook at: https://www.facebook.com/GIGFIU