Indigenous Colloquia
Indigenous Colloquia May 23, 2015: Indigenous Leader Salvador Quishpe spoke at FIU on Ecuador's Constitution, Plurinationalism, and Sumak Kawsay (Good Living). Sponsored by the FIU Global Indigenous Forum and student club, Global Indigenous Group.
News story by Vanessa Leon. Ph.D. student in Global and Sociocultural Studies.
Ecuadorian Indigenous Leader Salvador Quishpe spoke about Ecuador's Constitutional Amendments and Quichua Indigenous Organizations at FIU Global Indigenous Forum (GIF) on May 23th, 2015 at Steven J. Green School of International and Public Affairs. The guest speaker focused on two main issues: the syncretism between Christianity and Indigenous beliefs along 500 years of Colonization, and the current relationship between Indigenous organizations and the Ecuadorean government.
Salvador Quishpe is the first Indigenous Prefect from the Saraguro ethnic. He was re-elected Prefect of Zamora Chinchipe Province, having served from 2009 – 2014 and now 2014 – 2019. He also was a key leader in the Confederation of Indigenous Nationalities of Ecuador (CONAIE) 2001 – 2002, Ecuadorian Congressman during two electoral periods, 2003 – 2007; and Member of the National Assembly for Revising the Constitution: 2007 – 2008. Scholars and politicians have recognized the Ecuadorian Indigenous Movement CONAIE as the strongest Indigenous Social Movement in Ecuador, and one of the best-organized social movements in Latin America. The Indigenous movement achieved the inclusion of some Indigenous concepts in the last Ecuadorian Constitution enacted by the National Assembly in 2008, such as Plurinationalism, Mother Earth rights and Sumak Kawsay (Good Living, Buen Vivir).
Salvador Quishpe clearly explained the struggles inside their communities, trying to revitalize their traditions such as Inti Raymi (Festival of the Sun). Over many decades, Andean communities attained an overlap, with respect but without exclusion, between the Christian creed and Indigenous beliefs present today. He stated syncretism was the most significant contributor to understanding this cultural meanings overlapping and acceptance. He also explained the Sumak Kawsay from the Indigenous perspective and the political misuse of this concept. Finally, he spoke about the strained relations between Indigenous groups and Ecuadorian Government mainly concerning rights and respect to Mother Earth or Pacha Mama, such as those related with mineral extraction, water access and management; two specific concerns in the Province which Quishpe leads.
Professors and students attended from FIU Departments of History, Global and Sociocultural Studies, and Earth and Environmental Sciences, also from other institutions such as Saint Thomas University, and Inter-American Institute for Democracy. The FIU Global Indigenous Forum, and the student club the Global Indigenous Group are committed to bringing Indigenous voices and perspectives to FIU, the local and worldwide community.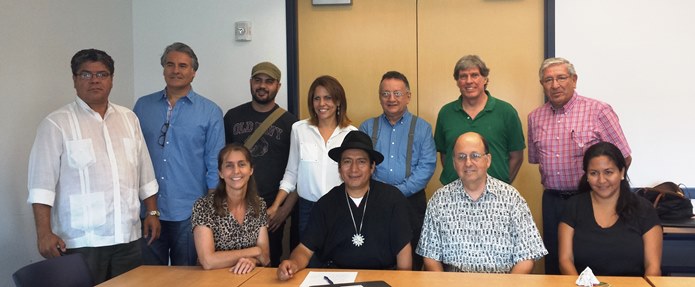 Professor Juliet Erazo, Guest Speaker Salvador Quishpe, Professor Dennis Wiedman (GIF Director), Professor Jim Riach and some attendees after the lecture.
Conferencia en GIG/GIF: Enmiendas de la Constitución Ecuatoriana y la Organización Indígena Quichua
El líder indígena ecuatoriano Salvador Quishpe habló sobre las Enmiendas de la Constitución Ecuatoriana y la Organización Indígena Quichua en el Foro Indígena Global de la Universidad Internacional de la Florida el día 23 de Mayo del 2015 en la Escuela de Relaciones Internacionales. El conferencista centró su discurso en dos temas: el sincretismo entre la cristiandad y las creencias indígenas a lo largo de 500 años de colonización y la actual relación entre las organizaciones indígenas y el Gobierno del Ecuador.
Salvador Quishpe es el primer Prefecto indígena de la etnia Saraguro. Fue reelegido Prefecto de la Provincia de Zamora Chinchipe, ocupando dicho cargo desde el 2009 al 2014, y ahora desde 2014 al 2019. Fue líder clave en Confederación de Nacionalidades Indígenas del Ecuador (CONAIE) durante el 2001 al 2002, Congresista durante dos periodos electorales, 2003 y 2007, y miembro de la Asamblea Nacional para la revisión de la Constitución (2007 – 2008). El movimiento indígena CONAIE ha sido reconocido por varios académicos y políticos Latinoamericanos como el Movimiento Social Indígena mas fuerte en el Ecuador y uno de los movimientos sociales mejor organizados en Latinoamérica, logrando la inclusión de algunos conceptos indígenas como Plurinacionalismo, Drechos de la Tierra y Sumak Kawsay (Buen Vivir) en la ultima Constitucion Ecuatoriana promulgada por la Asamblea Nacional en el año 2008.
El conferencista explicó claramente los problemas dentro de sus comunidades, tratando de revitalizer sus tradiciones como el Inti Raymi (Fiesta del Sol), finalmente logrando una sobreposición del credo cristiano y las creencias indigenas presents actualmente con respeto pero sin exclusion. El afirmo que el sincretismo fue el contribuyente mas importante para entender tal sobreposicion y aceptacion de los significados culturales. Ademas explicó el Sumak Kawsay desde la perspectiva indigena y el mal uso politico de este concepto. Finalmente, hablo sobre las tensas relaciones entre los grupos indigenas y el gobierno ecuatoriano, principalmente relacionado a los derechos y respeto de la tierra o Pacha Mama, como son la extraccion mineral y el acceso y administracion del agua, dos temas especificos en la Provincia que Quishpe lidera.
Durante la conferencia, participaron activamente profesores y estudiantes de los Departamentos de Historia, Estudios Globales y Socioculturales, y Ciencias de la Tierra y Ambiente de la FIU, asi como de otras instituciones como Universidad de San Tomas y el Instituto Interamericano de la Democracia. El GIG/GIF comprometido con la necesidad de tener voces indigenas en la FIU, organizó exitosamente esta discussion, incluyendo la perspectiva indigena de un lider nativo Ecuatoriano.
Vanessa Leon Estudiante Doctoral Departamento de Estudios Globales y Socioculturales