Indigenous Celebration
On October 4th, 2014, Global Indigenous Group a FIU student-led organization hosted the annual Indigenous Celebration "Engage the Circle" to connect and engage with our indigenous roots and people. At the FIU Grand Ballroom in Graham Center a wide array of Indigenous communities were represented: Seminole, Miccosukee, Quechua, Carib, Iroquois, Taino, and others.
One of the most significant moments was the Opening Prayer and Blessing of the Circle, led by Katherine Humming Bird Ramirez (Carib), the whole audience participated taking seeds in their own hands and gathering everybody in a general blessing.
Attendees enjoyed Seminole storytelling, Quechua songs, Intertribal fancy shawl dance with drums, eco-documentaries about the Everglades and beautiful pictures of Florida wildlife, landscapes and waterways.
This event was organized by Student Co-Chair Claudia Sabastiana, and Faculty Co-Chair Dennis Wiedman. Dennika Mays was Master of Ceremonies while Video Coordination was by Houston Cypress. It was free and welcoming to everyone. Co-sponsored by the FIU Global Indigenous Forum (GIF), CSO Council of Student Organizations and the FIU Office of Multicultural Programs and Services (MPAS)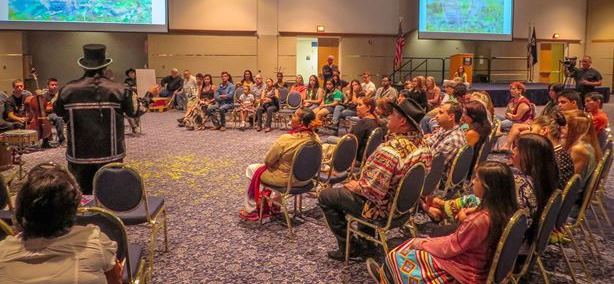 Media
Pictures
To view photos some photos taken by CarlosAtomic John Bob of the event, click here
Videos
The kuyayky Children's Orchestra at our Indigenous Celebration keeping alive the traditional music of the Andes.